Building the future through people.
Overview
The Faculty of Education's mission is to make a contribution to society by producing outstanding teachers, and it has provided a great number of teachers to Ehime Prefecture and places beyond. By offering a practical curriculum and an education defined by mutual respect and edification, the Faculty develops educators who combine sound, practical educational abilities with rich humanistic sensibilities.
The Faculty of Education consists of the following two teacher training courses.
School Teacher Training Course
The School Teacher Training Course consists of two courses: the Primary Education Course (100 students) and the Secondary Education Course (40 students). The Primary Education Course is made up of the Early Childhood Education Sub-Course for students aiming to become kindergarten teachers and the Elementary School Education Sub-Course for students who aim to become elementary school teachers. In the Primary Education Course, students will undertake wide-ranging studies in all subjects and obtain a Kindergarten and / or Elementary School Teaching Certificate. The Secondary Education Course consists of 10 major pedagogical subjects: Japanese, Social Studies, Mathematics, Science, Music, Art, Health and Physical Education, Technology, Home Economics, and English. Students will develop great expertise in their subjects and obtain a Lower/Upper Secondary School Teaching Certificate for each subject they pursue.
Students may also obtain multiple Teaching Certificates in addition to the one that is required for the course in which they are enrolled.
Special Education Teacher Training Course
The purpose of the Special Education Teacher Training Course (20 students) is to develop teachers who possess the ability to understand the needs of children in terms of individual development and education and provide pertinent support, as well as great specialization grounded in broad-based knowledge.
In obtaining a Primary School Teaching Certificate and Special Education Teaching Certificates in 4 areas (persons with hearing impairments, persons with developmental disabilities, persons with physical disabilities, persons with health-related special needs), students will acquire the knowledge and skills that will enable them to flourish as teachers in a variety of places of learning and related situations, including in special classes, at special schools, and when augmenting general classes with support via special classes.
History
The Faculty of Education was established in 1949, with the consolidation of the Ehime Prefectural Teachers School (est. 1876) and the Ehime Prefectural Youth Teachers School (est. 1927). Since its establishment, the Faculty has undergone a number of changes, and at present offers the following two courses: the School Teacher Training Course, and the Special Education Teacher Training Course.
Policy
Admissions Policy (AP)
What we look for in an applicant:
You possess knowledge and practical capabilities in the form of the fundamental academic skills that your studies after enrolling here will demand.

You have an understanding of subjects taken in high school such as Japanese, geography, history, civics, mathematics, science, and foreign languages, and possess knowledge consistent with having graduated from high school. (Knowledge, understanding)
You possess the knowledge of academic subjects and the practical skills (such as in sports, music, and fine arts) that are necessary in order to complete a teacher training curriculum. (Knowledge, understanding, skills)

You are able to consider matters in a multifaceted yet logical manner, and present and convey your thoughts accurately. (Thinking, judgment, expression)
You have a profound interest in the many issues concerning the development and education of children, and clearly possess the desire to contribute to society as an educator. (Interest, concern, ambition)
You possess the disposition to proactively engage with others and work toward developing mutual understanding through dialogue. (Disposition)
Curriculum Policy (CP)
In order to contribute to society by producing teachers who combine great humanistic sensibilities with outstanding practical leadership capabilities, the Faculty of Education offers academic courses oriented toward the acquisition of specialized academic knowledge and skills in all related fields, and a training curriculum that emphasizes systematic practical action and consideration from the first year onward. This enables our students to learn theory and have the experience of applying it in hands-on situations, to sincerely reflect on themselves through consideration stimulated by interaction with others, to heighten their interest and ambition, and to deepen their learning.
Diploma Policy (DP)
Study objectives:
Students will acquire accurate knowledge of education and the profession of teaching, and expertise in the areas that they consider to be their strong points. (Knowledge, understanding)
Students will gain in abundance the skills needed in order to be involved in education. (Skills)
As it relates to the many and varied issues that arise in modern educational settings, on the basis of professional expertise, students will have the ability to think comprehensively and with theoretical grounding about strategies for dealing with these issues, and to aptly express that process and its results. (Thinking, judgment, expression)
Students will have a sense of their duties and responsibilities as educators, have the ability to clearly define their subjects and study independently in a way that combines theory and practice, and make a voluntary effort to contribute to society. (Interest, concern, ambition, disposition)
Entrance Exam Information
About International Students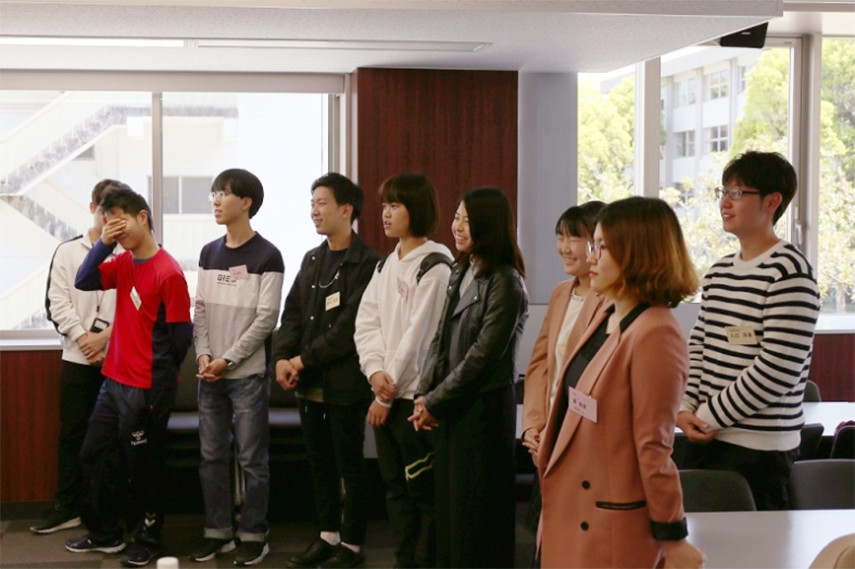 The Faculty of Education is staffed with instructors who are involved in teaching and research regarding the educational foundations of school education and psychology, early childhood education, and special needs education, as well as instructors who are involved in teaching and research on teaching methods and content in a wide range of subjects, including Japanese, social studies, English, mathematics, science, technology, health and physical education, home economics, music education, and art education. Within this wide range of research areas, we admit research students, non-degree students, auditors, and visiting researchers.
It is not possible in Japan for someone who does not have Japanese citizenship to obtain a teaching certificate that is valid within Japan. However, we have had foreign students who have been able to make use of the credits they have earned for courses taken here, as requisites toward the acquisition of teaching certificates in their home countries. In addition to this, we have students who have enrolled in the Faculty of Education as international teacher training students (for which people who are currently teachers in any country can apply), and as research students. By enrolling here through the use of any of the various study abroad systems that are available, such as short-term exchange programs, international students will have the opportunity to study education in Japan under the guidance of the Faculty of Education's instructors.
The Faculty of Education holds welcoming parties for long-term international students twice a year (spring and fall). This is an opportunity for our long-term international students, who have come from countries such as South Korea, China, Taiwan, and the Philippines, to deepen their relationships with their advising teachers and student tutors.
Voice of the International Student

Von Ralph Dane Herbuela

With the help of my wonderful professors and fellow students, a culturally-diverse and student-centered curriculum, I have successfully completed my study after two challenging but enjoyable years. A truly unforgettable and life changing experience!
Voice of the tutor

Takahito Ota

We were able to learn from each other, from the differences in things like culture and ways of thinking about academic subjects. In terms of our personal lives, as well, we had meaningful interactions. Today, I have many international student friends!
Voice of the advising teacher

Associate Professor Tomonori Karita

He had been working on his learnings and studies very studiously. He learned specialized knowledge and technical terms of special need education and welfare for children with disabilities in lectures which were given in Japanese by native Japanese speakers. He was good at speaking Japanese, therefore he and his classmates communicate in Japanese.
On the other hand, we discussed in English in my seminar. He majored Psychology in his undergraduate days, and he learned interdisciplinary studies such as special need education, welfare technology, and public health in the master course. He reported his own studies in international and Japanese conferences. From these points, his existence was the good stimulation for me and other graduate students.